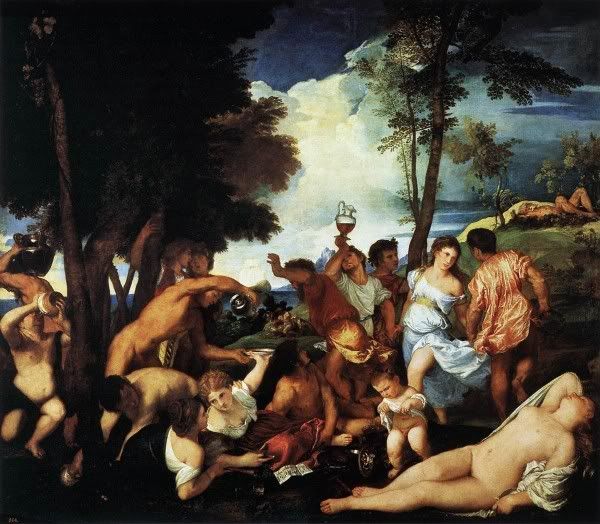 Vecellio Tiziano,
Bacchanal of the Andrians
c.1523
... have you ever noticed the reoccurring theme when you converse with ex-Catholics about their faith, or their current lack of it?
They all have the same basic lament about Catholicism... the guilt. Oh that famous "Catholic Guilt". According to them, Catholicism represents an ideology that everything is a sin and a source of shame. It's oh-so-inconvenient to have a moral conscience. Especially in this day and age when every modern psychologist will tell you it's unhealthy to feel guilt. Don't be ashamed to masturbate. Embrace your homosexuality. Pornography is good for you; it will spice up your sex life and improve your marriage. Don't repress your desires, your desires are natural. Those bad old Catholics just want to ruin every body's fun.
So when I hear people say that Catholicism is losing followers in records numbers and should "get with the times" [read- condone homosexuality/immorality/hedonistic behavior] it's not an indication to me that the Church is the problem. In fact it says to me the exact opposite. The Church is doing something right if people who can't cope with having morals and realizing that sin has consequences are leaving. It's so much easier to leave or blame the Church when things start to get uncomfortable.
When I have conversations with these ex-Catholics all I hear is someone who gave up when things got a bit squeamish, spiritual quitters if you will.