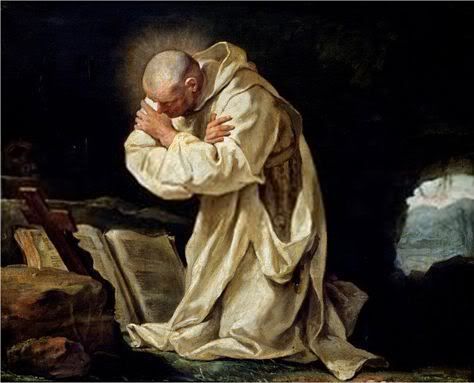 St. Bruno
,Jean Bernard Restout
The Order founded by Bruno is one of the strictest in the Church. Carthusians follow the Rule of St. Benedict, but accord it a most austere interpretation; there is perpetual silence and complete abstinence from flesh meat (only bread, legumes, and water are taken for nourishment). Bruno sought to revive the ancient eremitical way of life. His Order enjoys the distinction of never becoming unfaithful to the spirit of its founder, never needing a reform. Six years after initiating the foundation, Bruno was called to Rome by Pope Urban II as personal counselor. He complied with a heavy heart. However, when the Pope was forced to flee to Campania because of Emperor Henry IV, Bruno found a wilderness similar to that of Chartreuse at La Torre; there he made a second foundation, which blossomed into a flourishing community. Here in September, 1101, he became severely ill. Having called together his followers, Bruno made a public confession and died on October 6, 1101, at the age of seventy-one.
Excerpted from
The Church's Year of Grace
, Pius Parsch.
Patron:
diabolic possession; Ruthenia.
Symbols:
flowering crucifix; chalice and host; death's head; scroll with words O bonitas; star on his breast; seven stars; white scapular; olive branch; holding a book and illuminated by a ray of light.