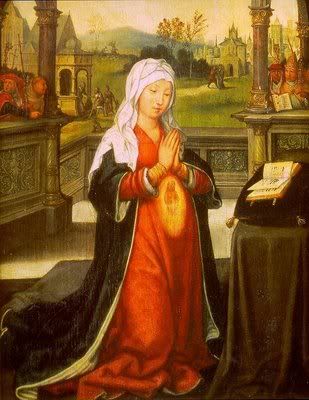 Bellegambe
Many converts have problems with various Marian dogmas. It is a common obstacle, one that I myself have to hurdle from time to time. One such teaching was that of the Immaculate Conception. To be honest, I still struggle with it.
I often find myself wondering what the implications are for Her to be free from the stain of original sin at the moment of her conception... to be separate from humanity.
So I sometimes struggle to reconcile a certain deification of Mary, if you will, with this particular feast day. If Mary lacks that humanity than from whom did Christ inherit His humanity? He is fully human, fully Divine. If Mary is not fully human doesn't this challenge the Duality of Christ's nature?
It's just something I ponder from time to time.
*I'm sure I needn't remind commenters to reply charitably in the com-box.