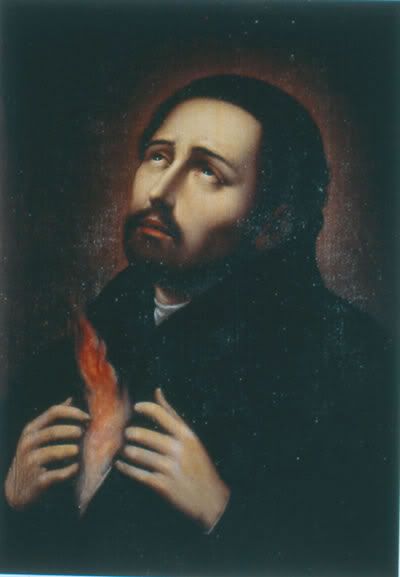 Jose de Alzbarca, c.18th centurcy
Patron:
African missions; diocese of Alexandria, Louisiana; Apostleship of Prayer; Australia; black missions; Borneo; China; East Indies; foreign missions; Goa, India; diocese of Green Bay, Wisconsin; India; archdiocese of Indianapolis, Indiana; Japan; diocese of Joiliet, Illinois; missionaries; Missioners of the Precious Blood; Navarre, Spain; navigators; New Zealand; parish missions; plague epidemics; Propagation of the Faith.
Symbols
: bell; crucifix; vessel; Pilgrim's staff; rosary; lily; font; ship and crucifix; globe.
Often portrayed as
: young bearded Jesuit with a torch, flame, cross and lily; young bearded Jesuit in the company of Saint Ignatius Loyola; preacher carrying a flaming heart.