The wilderness rejoiced at your birth, holy father Euthymius. In your memory, it brings a harvest of joy through your many miracles. Pour these wonders on our souls as well and cleanse us from our sins, That we may sing: Alleluia!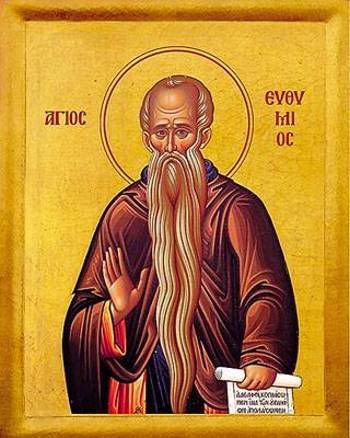 Also celebrating today; Commemoration of our Holy and God-Bearing Father Euthymius the Great
Saint Euthymius the Great came from the city of Melitene in Armenia, near the River Euphrates. His parents, Paul and Dionysia, were pious Christians of noble birth. After many years of marriage they remained childless, and in their sorrow they entreated God to give them offspring. Finally, they had a vision and heard a voice saying, "Be of good cheer! God will grant you a son, who will bring joy to the churches." The child was named Euthymius ("good cheer").
St Euthymius' father died soon after this, and his mother, fulfilling her vow to dedicate her son to God, gave him to her brother, the priest Eudoxius, to be educated. He presented the chid to Bishop Eutroius of Melitene, who accepted him with love. Seeing his good conduct, the bishop soon made him a Reader.
St Euthymius later became a monk and was ordained to the holy priesthood. At the same time, he was entrusted with the supervision of all the city monasteries. St Euthymius often visited the monastery of St Polyeuctus, and during Great Lent he withdrew into the wilderness. His responsibility for the monasteries weighed heavily upon the ascetic, and conflicted with his desire for stillness, so he secretly left the city and headed to Jerusalem. After venerating the holy shrines, he visited the Fathers in the desert.
Since there was a solitary cell in the Tharan lavra, he settled into it, earning his living by weaving baskets. [
read the full excerpt
]