... an embittered battle ensues, all for the sake of ceremony.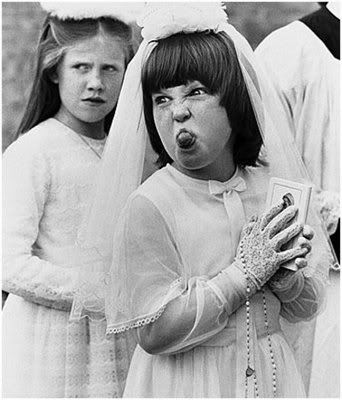 I have been trying for some time, quite unsuccessfully I might add, to register my son for CCD classes in preparation for his first Holy Communion. My kvetch are the times the classes are scheduled. They start at 4:30pm with only one evening class at 6:30pm that happens to fall on a night I have one my classes.
When I called to find out my alternatives, expressing that most people are at work during those times, the lovely reception said the simple solution was to have my husband bring him. Ouch.
I am sure we will work something out but the main issue I am having is with the ludicrousness of the whole process. For the next two years I have to commit to taking my son to CCD once a week. For what!? The whole thing gives me RCIA flashbacks... post traumatic stress disorder from all the hugging and "feelings" *twitch*.
This is the same parish where a mom was instructing kids who couldn't grasp transubstantiation that the Body and Blood of Christ was just a symbol. I vehemently believe that two years of this garbage will due more spiritual harm than good. Why can't I just continue with instructing my son at home, through my example, and weekly mass?
It's asinine.
The funniest part is I could just take him to the Ukrainian parish and after a few meetings with the parish priest get the whole thing done with. Then my son can start receiving the graces associated with the Eucharist.
When I told my family this was my initial plan you'd thought I said I was converting to Mormonism. Don't you dare, they balked. Why... because they want the ceremony.
They want the suit, the pictures, the party, they big deal and rite of passage associated with first Holy Communion.
So is first communion just about a celebration or about children coming into the fullness of their faith? I can't tell you how many friends I have that are Catholic up to the point their children receive the sacraments. Then you never see them or their kids at mass again. Some formation.
The whole thing is just plain dumb and has me irritated beyond belief.
Discuss.