... For some odd reason I understood hospice care to be providing comfort for the dying, caring for their needs and seeing to it that their last days were dignified. However; physicians seem to think "comfort and dignity" means forcibly keeping the patient incoherently sedated and constantly unconscious.
I had one patient beg me not to give them any more morphine. As the effects of the medication began to wear off, this person became cognitive and talkative with their visitors and family. We sat and played scrabble, laughed and exchanged stories about my son and their grand-children. I was careful not to over exert the patient, asking periodically if they were experiencing any pain. Again, they refused the morphine saying the discomfort was nothing compared to the helpless vegetative state they had been under.
When my shift ended I was scolded for my "undignified" behavior and reminded that the patients do not know what is in their best interest and that most were mentally incapable of making decisions regarding their care.
Yes, I do suppose it is hard to make decisions when you are being pumped full of pain killers and anti-psychotics 24/7.
Dear readers, I beg you. Please remember the dying in your prayers this Lent.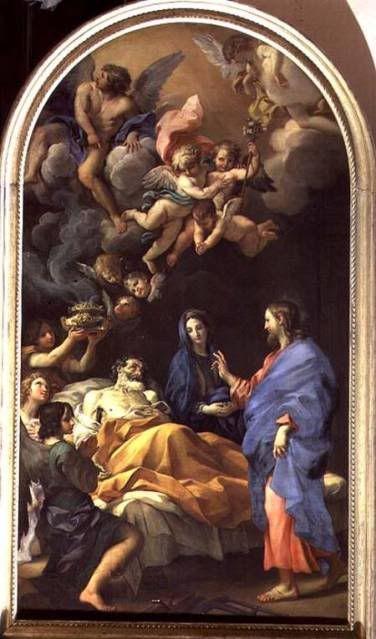 Carlo Maratta,
The Happy Death of St. Joseph
.