... I know, I know. It's been two years since I vowed not to regurgitate the same negative news circulating the Internet. I have done a damn good job holding my end and I promise this is not going to be that kind of post. You don't need me to remind you of the scandals. However, what I think does bear repeating is an old favorite quote of mine; so in light of recent media events...
"Considering the damage done to the priesthood by sins of calumny, detraction, and tale-bearing, you can resolve to refrain from all critical, unkind, and judgmental speech (and blogging) concerning priests, and also resolve never to repeat disedifying comments, anecdotes, or gossip concerning priests, their sins, and their failings.
"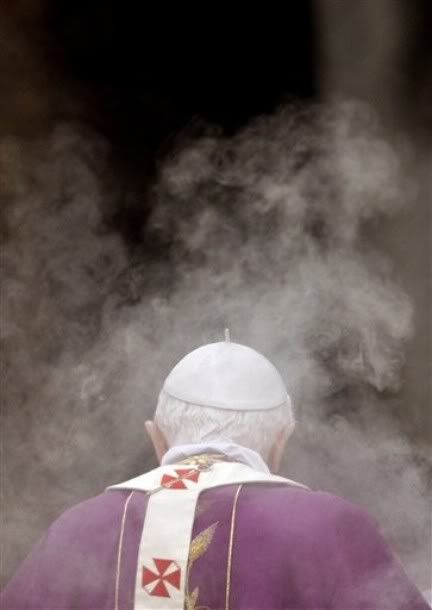 About the image: Pope Benedict XVI is seen through fumes of incense during a memorial Mass at St. Peter's Basilica, at the Vatican, to mark the fifth anniversary of the death of Pope John Paul II, Monday, March 29, 2010. [
source
]
About the quote: I wish I knew the source, but this sounds like something
Terry
would say though.
Pray for priests and our Pontiff.