... I love processions. Next to a fully habited nun or a priest in clerics is the procession as a public witness to Catholicism. Here in the south they are virtually nonexistent save for a handful of exceptions. My first ever exposure to a procession, outside of old Hollywood films, was my Abuelita taking me to her parish's Los Dias de Muertos procession. Think about it... that is kind a wicked first exposure to the Church from the perspective of an unchurched little girl.
Funny, I started blogging on the November 2, 2005 and one of my first posts was about that feast.
More than the actual procession itself, I remember the way people driving by gawked at the weird Catholics parading down the streets with candles and faces painted like skulls. Talk about bat shit crazy in white bread Virginia. I recall being slightly mortified and wishing I had a normal family. I wonder if my son thinks that from time to time himself.
Actually that isn't the best example of witnessing Catholicism via a procession. I am quite sure most people who saw us that evening just went home with their belief in our supreme weirdness confirmed. Moving along...
Corpus Christi is a big procession day in the Church and with every public proclamation of the faith there is a chance for some one to witness Catholics in action and maybe have the seeds of faith planted. The more people see something the more accustomed they become; eventually they get comfortable with the idea of Catholics marching up and down their streets in th
r
ongs. Maybe they develop a curiosity. Maybe they will convert. Maybe not. However, we will never know if we continue on the trend of hiding, or even worse, blending our faith and traditions with other denominations and religions in an attempt to practice diversity and ecumenism.
Like the vanishing religious habit, let's not loose all our outwardly appearances that make us uniquely who we are.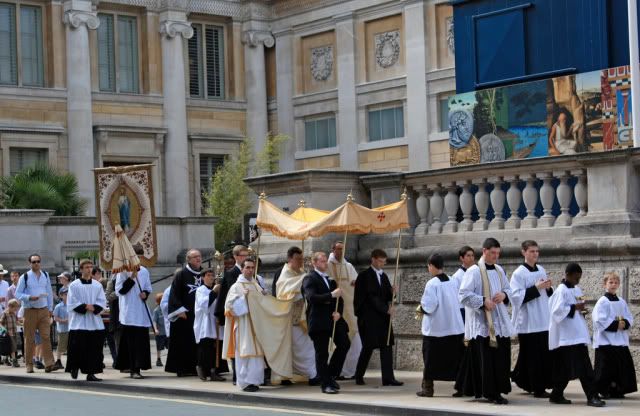 Corpus Christi procession in 2009 photographed by
Lawrence Lew, OP
.
If you have photos of your parish's Corpus Christi procession you'd like to share leave the link in the com-box.