... all it took was this one image posted on my facebook page to cause a scandal.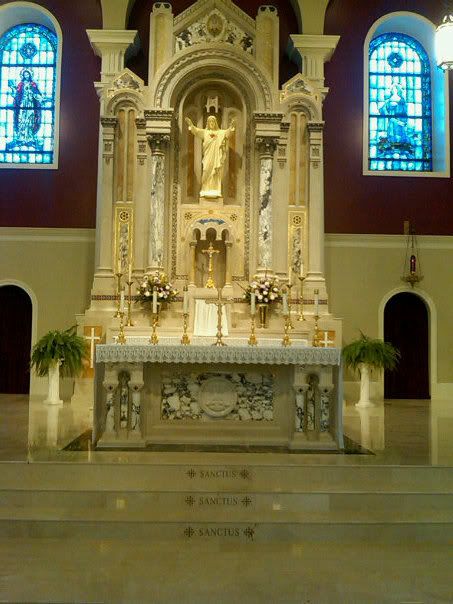 Really, I thought we were over this squabbling by now. We, in the Diocese of Charlotte, are seeing a marked change after years of wandering in the liturgical desert. Churches are starting to look like... churches! It is very exciting and I personally am grateful for the efforts that our local priests and Bishop Jugis have been making to bring the richness of Catholicism to the faithful.
The above image is of the new Sacred Heart Church in Salisbury NC. The old parish was just as beautiful too. I remember being very upset when I learned it was being sold. But it was too small. Every time I went it was packed and people stood in the back... a testament to the priest and his celebration of the liturgy.
Of course when I posted the above image on facebook it took no time for some one to notice the absence of an altar rail. I commented that at this time I don't believe they offer the m.e.f. ... it was all down hill from there.
The divisive exchange began about the illicitness of one mass over the other. LeFebvre was mentioned. It didn't help matters when asked why I don't attend the SSPX chapel I remarked it was cultish. Then I dared defend the novus ordo mass by saying I've seen it done reverently and solemnly.
Don't we have enough pitted against us as Catholics, like, I don't know... the world. Do we really need the infighting and liturgical divisions? Have you ever known the Church to do anything without a slow deliberate pace? These things take time. The changes are coming slowly but surely. We need to celebrate and support those involved in these changes. Not deride their efforts with our critiques.
And for the last time people, one form of mass is not
spiritually
superior to the other. Yes, we may have our liturgical preferences, but that does not make the Blessed Sacrament any less transsubstantiated.