... tomb of St. Monica in Sant'Agostino.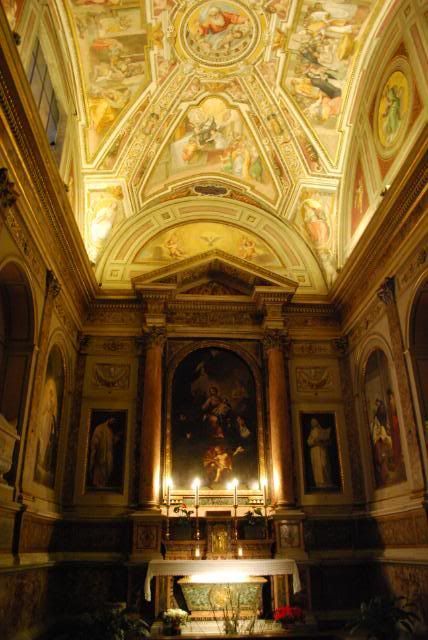 Forgive me, St. Monica, I used to view you as an instrument of oppression used by the Catholic Church to make women stay in miserable marriages. Even to this day the thought of you fills me with crippling guilt. Five years ago I wrote this;
"I have so many mixed feelings toward St. Monica. I want to like her, I really do. I respect the devotion and perseverance she showed in her marriage. However; if I think about her too much I start to feel guilty. You see, Monica & I had similar marriages. The major difference between us is how we handled those marriages; I walked away from mine.
What kind of message does she send to women who are suffering under the cruel dictatorship of abusive and unfaithful husbands? I can only tell you the message she sent me. One of sheer debilitating guilt. Maybe I would have stayed if a child had not been born into those circumstances. Maybe I would have stayed and pray for that heathen beast's conversion. I did actually. I stayed for a year and half... praying every day. Nothing changed, things got worse and the Catholic women who introduced me to Monica, before I even understood the concept of saintly intercessory prayer, turned their backs on me while I followed their advice to offer up my sufferings. A bitter person could not have endured and possibly would have thought all Catholics were sadists. A bitter person would never have converted under those circumstances.
If it had not been for Fr. Joe and his kind advice I never would have found the courage to make the final decision to walk away. Yes, a priest told me to leave my husband. He encouraged me to find a better environment to raise my son. He also said for me to never stop praying for my husband. I followed his advice to the letter.
Here I am, three years later. A divorced single mother. It's not nearly as hard as I thought it would be. In fact the only condemnation for my actions I have encountered have been on this blog from my more judgemental anonymous commenters. Some days though, especially when I think of St. Monica, I tend to agree with all those anonymous remarks.
If we are called to live our lives as examples of our faith, what better example could I have given my son then to stay in my marriage and pray obediently with 100% faith in the Lord to improve my circumstances and convert my husband? Sometimes I think I was given a test and I failed. Maybe my son who have been so moved by life of faith and submission to Christ that he would have been another Augustine. Maybe not. Then sometimes I think that God led me to Fr. Joe's office and counsel. How can one really be sure?
Either way, while I deeply revere St. Monica and I am long way off from liking her."
As a wife her example is too painful but as I mother my love and devotion for St. Monica has exponentially grown over the years. The tears cried over a child are a universal experience that bonds all mothers.
So, Happy Mother's Day St. Monica and to all my readers.