...
oh, I remember
. Now that I am done being silly, let me resume with "Rome Day 2, part Due: St. Peter's Basilica".
I've never wept more in one day. Like a little girl. I was practically giddy making my way slowly into St. Peter's. The three hour wait was well worth every second. The minute I stepped foot into the church I lost all sense of time. And complete composure. To my immediate right was this...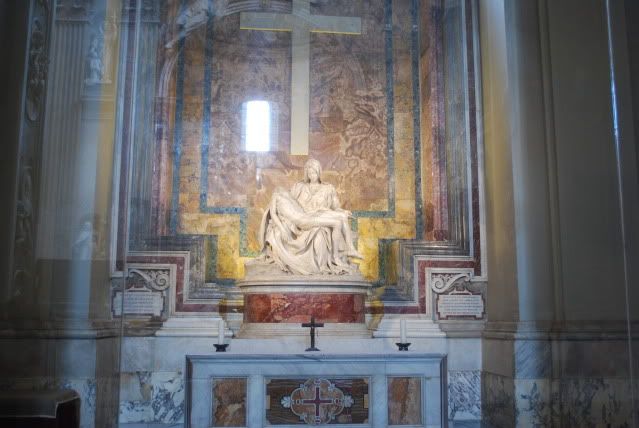 and then directly in front of me was this...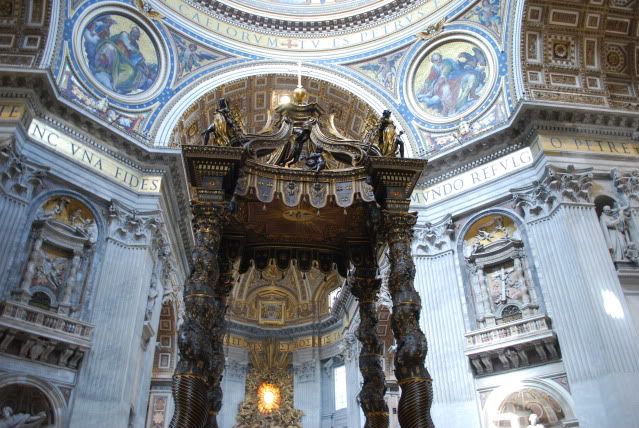 There I was, in front of the Bernini baldacchino I had only seen in books and online. Touching the bronzed foot of St. Peter, which had been worn down to webbed toes over centuries of pilgrims caresses and kisses.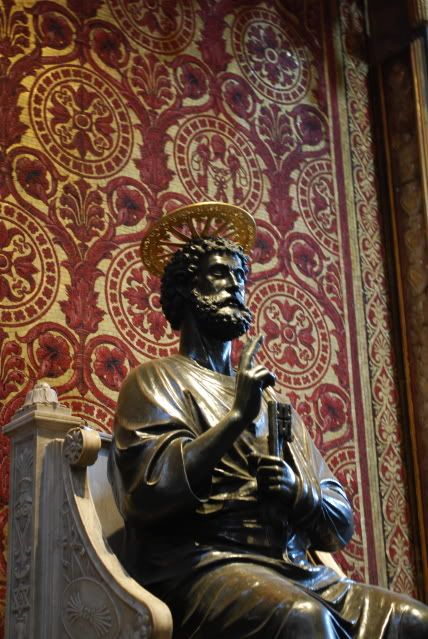 Yeah, that picture up above, I took that. I was right there. I even touched it. I know right!
I had to have paced the entire basilica at least four times before I even remembered I had a camera in my bag. I just wandered from chapel to chapel mouth opened and neck craned. I think it was the longest time in my life I went without uttering a single word, with the exception of sleeping.
I wonder, though, about some of those tourists I saw. Taking quick photos and videos with their cameras and camcorders. It's like they watch their vacation through the tiny digital display screen on their gadgets and relive everything later at home. It was very curious behavior. I couldn't believe it; surrounded by more than your senses can even take in during a single visit and they whipped through without a moment to digest the atmosphere. Five hours of the day had passed before I even left, and even then it was regrettably.
For lunch, I sat down on the steps of the colonnades in the shade and cooled my feet on the stones throwing crumbs to the very large and aggressive pigeons. Remember Roman Rule #2, always lookup? Yeah, well I momentarily forgot. And it wasn't till I felt the wet splatter of pigeon crap on my leg that I looked up to see thousands of pigeons perched around the edge of the colonnade. Lying in wait. Sneaky feral pigeons.
After lunch I made my way over to the Vatican Museum... to be continued.
Oh and as promised,
Roman Rule #3
. This one is for the ladies, men avert your eyes from the following text. Italian men are suckers. Suckers for a smile, a bat of the lashes, and for crying women. Avoid paying tourist prices with a smile, bat of the lashes and be apologetic as you feebly attempt to speak their language. I used this rule in conjunction with Roman Rule #4, that learned on Day 3.