... Once I saw a bumper sticker, "Having an abortion doesn't make you un-pregnant. It makes you the mother of a dead baby." From that same perspective, a man whose child has been aborted doesn't make him any less of a father.
So little attention is given to men when the topic of abortion is raised, aside from a mention of forceful coercive tactics. In our victim-less culture it's easy to vilify the man that "got a women pregnant". That kind of thinking releases the woman from any responsibility, making the choice of abortion much more easy if not logical. No one thinks when they grow up "I want to be a single mother." However, this isn't about mothers. It's about fathers.
Last year I met a man who admitted how profoundly he'd been changed by an abortion his girlfriend, now ex-wife, underwent when they were teenagers. They both felt crushing parental pressure to have an abortion. These two teenagers were scared and went to their parents for help. Instead they got sermons and statistics thrown at them. Young parents have a lower success rate of finishing college. The odds were insurmountable. It would be cruel to bring an unwanted baby into the world that would just burden everyone. Abortion is the best thing.
He told me how he and his girlfriend never wanted to end the pregnancy but neither had the courage to stand up against their parents who they trusted to know better. He vividly recalled his ex-wife, then a terrified 18 year old girl, staring at him with desperate pleading eyes. She wanted him to stand up and firmly say "This is my child too. You will not have an abortion. We can cope."
Instead he looked away. The decision was made by their parents and the following week they drove her to the clinic. It was done.
They eventually got married and had several more children together but from the moment he looked away from his pregnant girlfriend's gaze and surrender his responsibility as a father he lost a good deal of his manhood.
He lost the ability to make decisions. He lacked the confidence and ultimately thought every decision he made was going to be the wrong one. So he stopped making them. His wife ran his life and she resented his spineless ineptitude to take charge. He was a coward at work, with his friends, his wife and eventually his children. No one respected him because he lacked firm resolve.
Not only did they lose their first child to abortion, he also lost his manhood and his fatherhood. He and his ex-wife no longer speak and the children are grown and estranged to him. He's never met his two grandchildren.
One single abortion, with promises of a better future, was supposed to solve all their youthful problems. Ultimately it destroyed two generations of his family and caused endless heartache.
I myself, speak very rarely on personal matters so it's not common knowledge that I was raised without a father. I might as well have been aborted as far as my biological father was concerned, for how non-existent he was in my life. Yet no matter how absent and unaware he was of me it still didn't change the fact he was a father.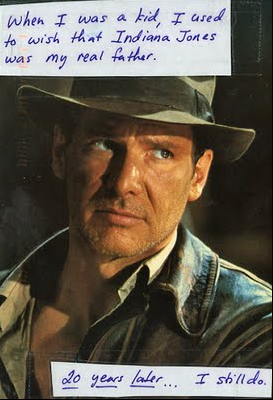 The above image, from a website called PostSecret, acutely portrays the loneliness I felt as a child when I let my little mind linger too long on the ideal of "family". My father and I now share a relationship but it doesn't have the element of father/daughter; we are more like friends. He is a nice man and a wonderful doting grandfather, but he will never be the father that I go to for advice or comfort. Sad, I know. Such is the damage on a small girls psyche. It really sucks never being anyone's "little princess".
Take a moment to look at that
PostSecret
site. I do warn you there is an image of female nudity that may present a problem of custody of the eyes for some men. There is also coarse language, more so than found here. However, if your senses be none too delicate, it's an artistically done visual representation of what children feel, well into adulthood, when their fathers are absent physically or emotionally.
Also though, it celebrates the absolute importance of fatherhood. To have such an impact on your child's life is no small thing, as you can see. You are the world, inside and out, to your child. Not being there is just as impressionable as being there. You're fatherhood is a deeply profound thing. And that is a supremely good thing.
Never let anyone down play the importance of that role.
Happy Father's Day to all fathers, even the reluctant ones.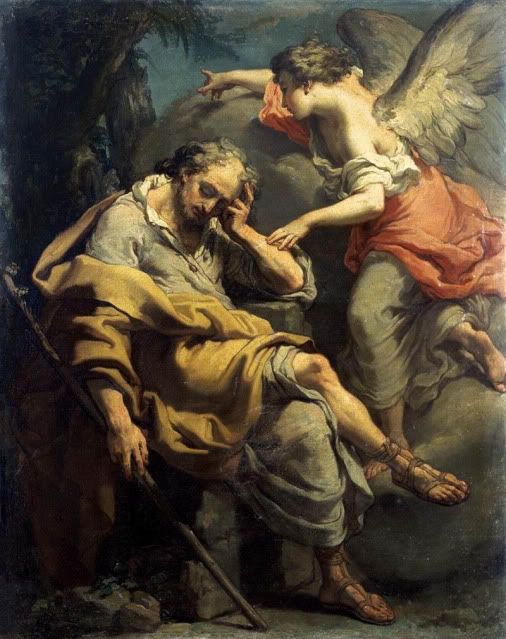 Gaetano Gandolfi, 1734-1802, St. Joseph was visited by an angel.