... not the most timely recounting of my time in Rome, having returned home almost two months ago, I know. But picking up with
Day 5
, after having delivered keys to Hilary's flat and touring the beautiful Santissima Trinita dei Pellegrini my stomach ached for more Italian cuisine. Priorities.
So the next mission to be had was a full Roman lunch, complete in all its glorious stages. I needed to be well fed before the big Vatican Blog Meeting since I heard those meetings can be rather long. I was also informed to be well plied with alcohol because they are as boring as they are long.
First there was the Prosecco aperitivo, followed by fiori fritti [which I was thoroughly enjoying until some one informed me it was stuffed with anchovies], and followed by a thick pasta primo. Here is where we paused to chat, enjoy the scenery and have a smoke while letting the food settle making room for round two.
Next came a veal secondo, an asparagus contorno and a beautiful flaky creamy pastry like cake sprinkled with powdered sugar and drizzled with chocolate syrup. There were 2 bottles of wine consumed and after caffè a sweet liquor digestivo was had.
I could have easily crawled under the table for a nap and would have happily done so if not for more pressing matters. Lunch was approximately three hours in length. The Vatican Blog Meeting started at 3pm. At 3pm I was still dining alfresco and finishing another cigarette. I was assured over and over; this is Rome, there is plenty of time. Eat, enjoy and never rush an Italian meal. What could I do but have another glass of wine. It was only proper. When in Rome and all.
At 3:20pm I arrived at the steps of where the Vatican Blog Meeting was to be held. Two thoughts were racing through my head 1) I was horribly late and would make a scene trying to sneak in 2) provided they even let me in. I kept expecting at any moment to be asked to leave or whisked away by Vatican security forces.
Even when I was permitted in, without incident I might add, no one tapped me on the shoulder and said there'd be a horrible mistake and to please follow them down this dark hallway that lacked witnesses.
In fact at almost 4pm people were still arriving. Those who were there chatted and took pictures. The more dedicated were busy blogging or twerping or whatever. I was looking for the bar. Two hours later when the meeting paused for a break... I found it. And it had a whole table full of Prosecco; over twenty bottles [Yes, I counted] just sitting there, out in the open.
I contemplated the size of my bag but it was on fear of the pains of hell that kept me from stealing bubbling wine from the Vatican.
So I opted for the next best thing. I asked the bartender for two glasses. One for me and one for my "friend". My very thirsty friend. After my fourth trip to the bar for two glasses of Prosecco the bartender grew suspicious. "What", I said. "I have lots of friends" and merrily skipped away with my two glasses.
Of course I wasn't consuming all that wine during the short break. I was stock piling. Lord knew how much longer it would last. I was just planning ahead.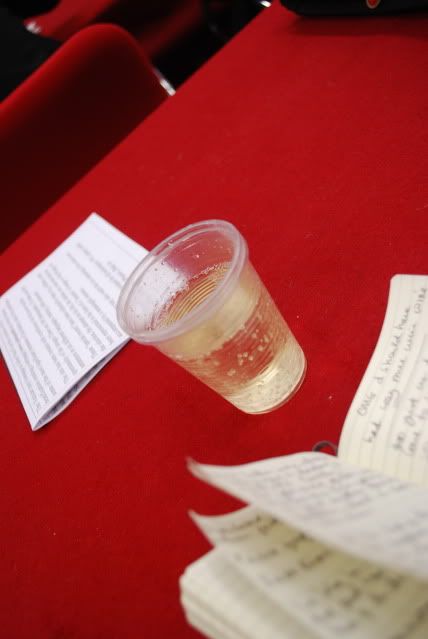 If you look closely you can see a desperate note scrawled and passed to Hilary. It reads, "OMG I should have had way more wine". This fact I did not notice until I got home and uploaded the photos. It caught the attention of an observant priest who reminded me that hell was never too crowded for just one more.
A little past 8pm the meeting concluded. Tipsy, hungry and my brains rendered numb from a four hour meeting, I stumbled into Vatican Square...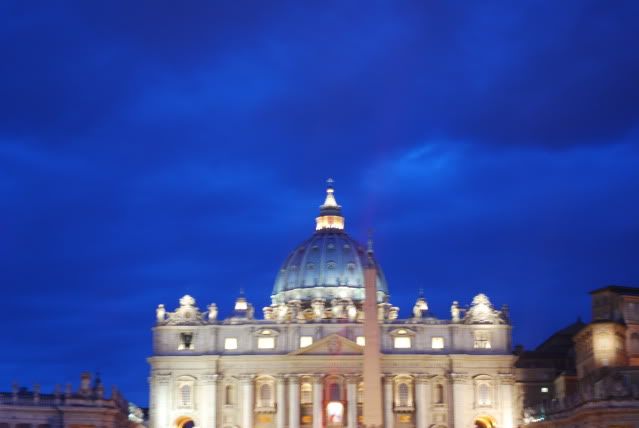 What an amazing city, with it's unique ability to catch you off guard at any moment and leave you breathless. Rome is a completely different city at night. It's more than just the lack of tourist and less crowded streets. Monuments and churches are flooded with spotlights illuminating details that get washed out in the light of day. Shadows dance and play tricks on statues and a stroll through a side street reveals Marian shrines flickering in lamp light and decorated with flowers left by the faithful. You can look up into apartments and peer inside, wondering what it would be like to live there while Italian families socialize from their balconies and rooftop gardens, shouting salutations to the people below.
Sigh...