... the big day; the Vatican Blog Meeting. Fully rested from the previous day, Hilary and I head back into Rome. Our first stop was the Trevi Fountain. Movies had set my expectations...
In reality Fontana di Trevi was packed with tourist and drained of water for coin collecting. Beautiful none the less. Hilary & I hung out and she took obligatory pictures of me standing in front the empty fountain and then darted off to her art class leaving me free to wander the streets for a few hours.
I used to have this pathological fear of getting lost. I have control issues, what can you do. Being in a foreign country I had to set my neurosis aside for a moment. I intentionally did not make an itinerary for this trip, being last minute necessitated it. My days were delightfully unscheduled which left me free to wander at my leisure or do nothing at all... dolce far niente.
The Quirinal Hill is a fantastic place to get lost. Some where along the Via Di San Vincenzo I stumbled across a Byzantine church. Completely off the guide books and therefore empty of tourists it was an oasis. This church was unassuming, plain by Italian standards, but a glory none the less. I have photos, just none to share. My computer decided it no longer desired to compute in the middle of adding another 500+ photos to my photobucket account. Such is life.
After my carefree morning I was charged with a mission... deliver Hilary's spare keys to a gentleman at
Santissima Trinita dei Pellegrini
church in the Campo de Fiori. Said gentleman was to pick up one
Mrs. Cummings
, who would be flying into Rome while Hilary & I attended the Blog Meeting.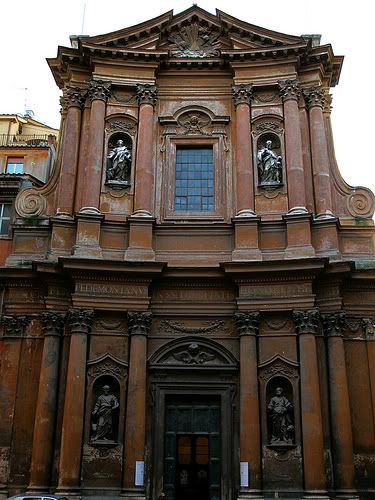 While in the Campo de Fiori I had my first and only encounter with a gypsy thief. This fiddle playing gypsy tried to reach into my bag and take my camera while I stopped to look at my map. I turned around and caught him inches from sticking his hand in my purse. He apologized rather coyly, "mi scusi" and went fiddling off. No harm, no foul. He had the demeanor of a impish boy whose hand was caught in the cookie jar... without the remorse.
In Santissima Trinita I got to touch brocade vestments that were over 400 years old, see the restoration of a great work of art, and come within inches of Guido Reni's Holy Trinity.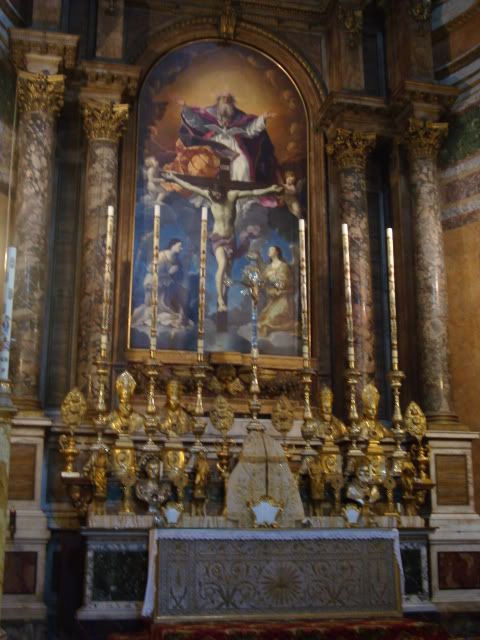 You see that high altar right there? I was standing right there helping said gentleman while he organized those magnificent reliquaries.
more to come...