... so my son asked me for an allowance the other day. I asked him where he learned such a foul loathsome word and, of course, he said he learned it at school. Rotten public school children and their corrupting wicked ideas! So I told him we don't use that kind of language in this house and banished him to his room lest he gets any more crazy ideas.
Then I went to work today and asked some of my co-workers if they give their kids *shudder* an allowance. Can you believe it, they did. Every single last one of them. They all gave their kids money.
I asked them what they made their kids do to earn the money and they looked at me like I suddenly started speaking Klingon. Seriously?! You mean to tell me there are people out there just handing out their hard money to their offspring... just because?
I
need to be adopted by those people.
You do realize what a well spring of slave labor is at your disposal?
For a 25¢ a stick, my son will pick up yard debris. The sticks are then dumped into the fire pit. Later, when we have enough kindling to make a blaze seen from space, we invite the neighbors over and have s'mores.
He gets $2 for every flower bed he weeds and I pay one nickle per bug picked off the vegetables in the garden. What lawn service are you going to find cheaper than your very own children. For the industrious parent, you can send them to work the whole neighborhood. I can't think of a better way to promote a hard working entrepreneurial spirit in your child laborer/tender offspring.
When he gets a little older, I told him he can start washing the windows for a 1$ per pane. He's not tall enough now, and besides, how tacky is it looking out of half clean windows. I mean really now! But when he hits that growth sport, look out. I told him all about the money making opportunities that are in store for hard working young men, such as himself.
You can't even get even get a Mexican for those prices! Kids are like gold. I don't understand why more people aren't having them. I know!
So, for all those parents out there just handy out the greens like a Barack before election... stop it! You're ruining the fun for the rest of us!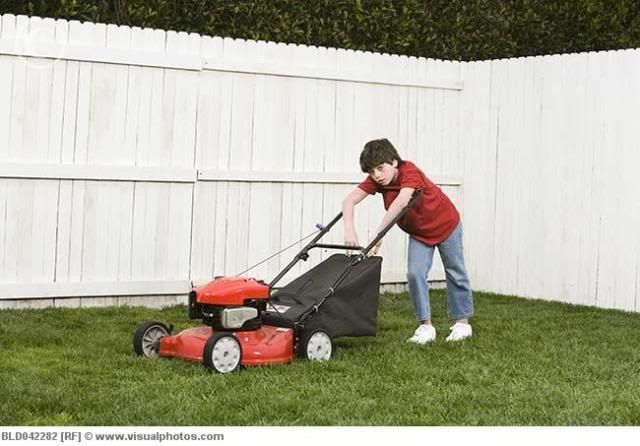 Ok, getting serious for a moment...
Allowance for the sake of allowance or do you make them earn their money? Or are you of the mind set that chores are an expected part of being a responsible member of the family and not something that should be bought. Discuss.